Hi friends!
I've been chewing on eye candy lately...
Pondering which project I should devote my day to, day after day now that I'm on vacation!!!
So, I'm blog hopping looking for inspiration, among other places, here's what I found!
This beautiful scene is from the link below, life in the fun lane--I'm not sure where she picked it up, but isn't it gorge!?!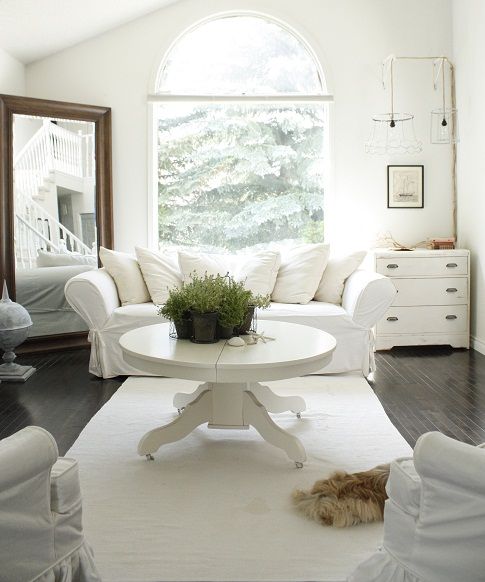 Who could do without the lovely Sarah's house episodes to get your country renovation fix? :) the below staircase is from her country farm house!
This is a little peaceful reading area from the home of
Restyledhome
!
How could you not love this mudroom from sarah over at her
abeachcottage
?
This is kind of what I want to do...print out letters/words on my computer, but them on a canvas and spray paint over them, then peel off the letters, and I'll have the same ideas. This product is for sale at
Red Letter Words
but...honestly, anyone could do it! :) I want mine to say "FOR THIS CHILD WE PRAYED" ...the one that is on this canvas leads to a legalistic point of view...boo.
this stool is from Dreamy whites too...see below :)
For a while I was theming our master bedroom off of this beautiful bedroom over at
Dreamy Whites
! AH! GORGEOUS! the thing is, finding old doors around here in California isn't as easy as it sounds. I still have closet doors, I was planning on adding molding to, and "distressing" them, for this look. but egh. its just not the same. we'll see. To Be Continued...
This scene would have something to do with my DREAM perfect day. :) It's from
Brabourne Farm
, love her!
How could we, DIY-er's, function without the lovely & inventive
Funky Junk Interiors!
I will be doing this project...See? I'm already inspired! I feel a trip to the "free" page on Craigslist coming on! Its an urge!!!
...
..
Ok, so, in all honesty, this is my True Inspiration.
He is my best friend,
my encourager,
my rock,
my hero,
my comedic relief,
my judge of reason,
my leader,
my handsome trophy,
my playmate,
my teammate,
my captain,
my husband,
my Love.
On our wedding day
~ September 6th, 2008 ~
Be Blessed!
~Brittany,
The DIY wifey